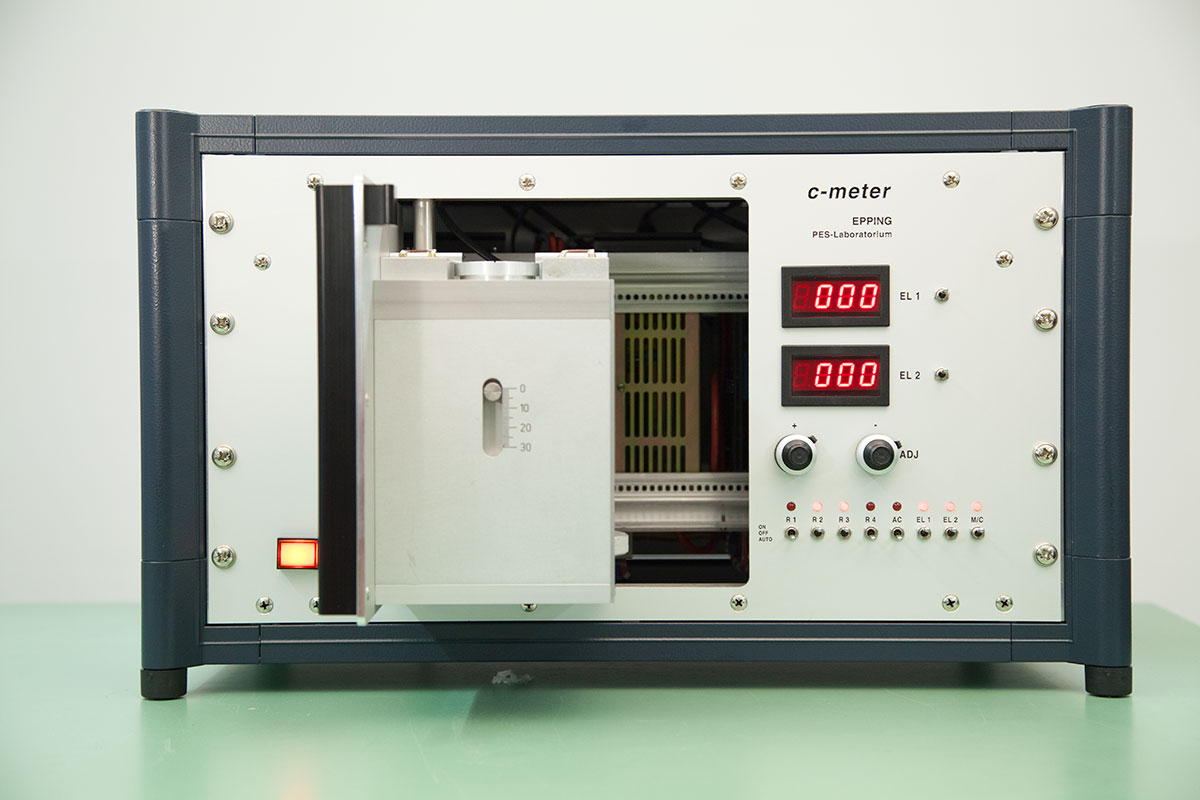 c-meter – dynamic conductivity measurement device
In the area of electrostatic printing technology, the electrical conductivity of developers is used to characterize the physical properties of materials. Electrical conductivity is one of the main properties in the increase in printing speed. In addition to the electrostatic properties, it is an important value in the development of carrier and carrier coatings, the formulation of new toner, quality control during the production process, and in the inspection of products received from suppliers and products leaving the factory.
The c-meter is a conductivity-meter for two- or mono-component developers that are qualified for magnetic polarization. The developer is put in a measuring cell with four electrodes, which are embedded in quartz glass. Two of the electrodes are always grounded, the others are charged either positive or negative (up to +/- 1000 V) and then isolated at a resistivity of more than 1014 Ω. The developer is guided over the electrodes by an alternating magnetic field with variable field strength (50-750 Gauss). During the measurement, the material is rotating in the cell to stimulate a magnetic brush and transporting charge, which makes this a dynamic method. The "current" is discharging the electrodes, and the decay is measured.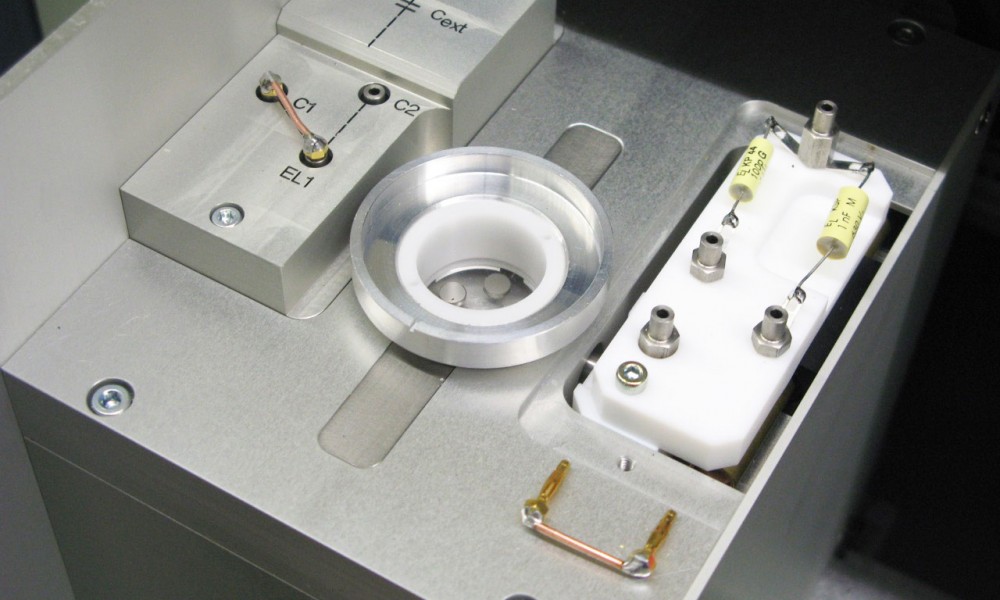 c-meter cell with electrodes and open cover with internal capacitors

Only a small amount of material (less than 1 g) is required to achieve a high reproducibility. The total measurement, including preparation, takes less than 2 min. The devices are adjusted to achieve a high comparability between machines at different sites.
In addition to conductivity, the devices can also test "breakdown stability" up to 1500V.
The device is a desktop unit controlled via Windows® software. It is loaded through the front door, which is secured during the measurement. 2 built-in capacitors and 1 external changeable capacitor make it very easy to adapt the measurement range to the area of the material.
System hardware
Bench top measurement device
Safety switch for closed door
Max. voltage +/- 1500V
Electrometer range 0 +/– 1000V
Software
Specifically designed to work with the c-meter compatible with Windows® OS
Software dialog controlled for easy operation
Interface
2 x 37 pol. SubD Connector
Electrical requirements
110 VAC to 230 VAC ± 10% @ 50/60 Hz
0.2 kW power consumption"
Dimensions
Instrument size L 550 x H 330 x D 400 mm
Net weight 25 kg