q/m-auto – Automated tribo charge measurement device
The q/m auto is a fully automated measurement device used to measure the charge to mass ratio of dual component developer systems (carrier + toner). The device has been developed from our manual q/m-meter device and delivers fully compatible results. The faraday cage has the same design and dimensions.
The internal balance and cleaning station facilitates the entire process of the measurement. The measurement cell is moved out of the device for filling, either manually or using a robot, and the measurement process that follows is controlled automatically. As in our q/m-meter, the airflow through the cell is controlled and can be varied during the blow off cycle. The vacuum is monitored.
The measurement cycles are:
Filling – manually or via robot
Weighing the cell with cap
Blowing off the toner from the carrier
Weighing the cell with cap
Cleaning the cell
The machine is then ready for the next cycle.
The device is controlled by an internal Box-PC with Windows® OS. The measurement can be initiated manually using the buttons on the front panel or from the q/m-auto software program, or initiated automatically by an external device via serial port (COM).
All movements are executed using pneumatic cylinders and linear electric actuators for high reliability. Positioning is monitored with sensors.
The cell and cap are cleaned with suction, supported by air jets and an air ionizer.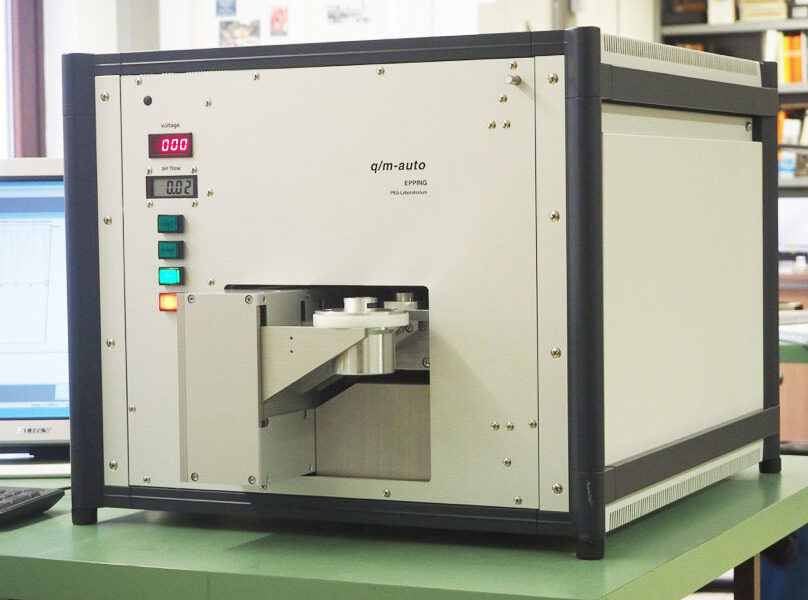 q/m-auto with measurement cell moved out for loading

System Hardware
Bench top measurement device
Build-in Box-PC with Windows® OS
Measurement cell with 5 wire mesh– reusable for up to 200 measurements
controlled airflow and monitored suction for most reproducible results
highly insulated cell
built-in balance with a resolution of 0.1 mg
cleaning with additional air jets and ionized air
Software
Specifically designed to work with the q/m auto, compatible with Windows®
External communication via COM-port
Graphing capability
Exports data in ASCII
Interface
1 x DVI/HDMI for the monitor.
1 x serial port COM1 for communication with an external control device
4 x USB (for keyboard and mouse)
2 x Ethernet port
Electrical Requirements
110 VAC to 230 V ± 10% @ 50/60 Hz
0.4 kW power consumption without vacuum cleaner
Dimensions
Instrument size: L 550 x H 600 x D 450 mm (without cell moved out)
Net weight 70 kg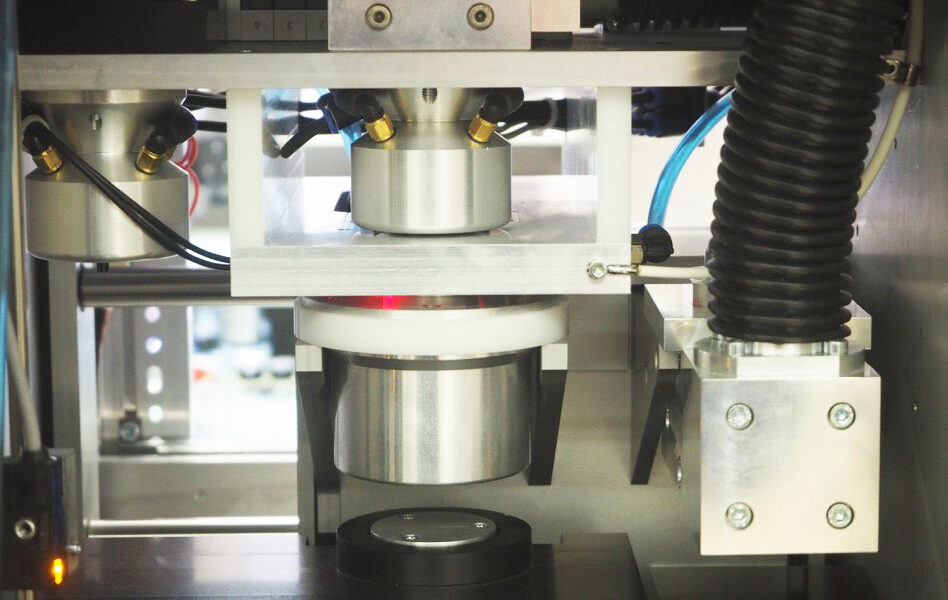 measurement cell in blow off position with balance underneath