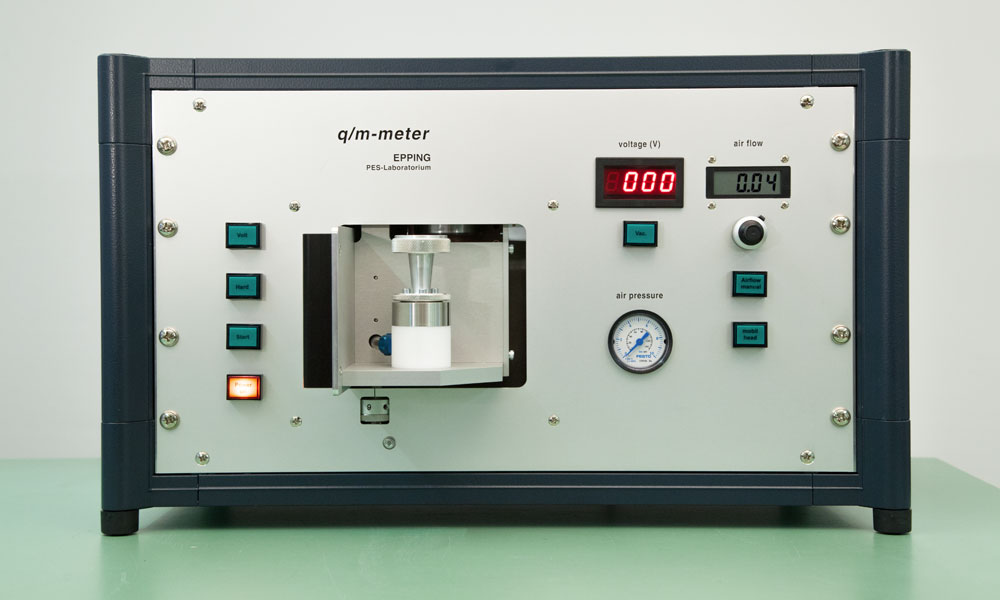 q/m-meter – Blow-off type tribo charge measurement device
The q/m meter is used to measure the charge to mass ratio of dual component developer systems (carrier + toner) and, optionally, for mono component toner systems. The q/m-value measured in µC/g is one of the important physical properties for characterizing toner/carrier, and is used in the electrostatic printing process.
The design of the sample cage (faraday cage) together with the controlled airflow softly and gently separates the toner from the carrier surface. This guarantees that results will be highly reproducible and sensitive, which is essential for QC and as well for R&D work. Separation is provided by a replaceable screen that can last for up to 200 measurements. The airflow through the cage is controlled and can be varied during the blow off process, allowing the measurement of micro carrier systems and helping to avoid clogging the mesh.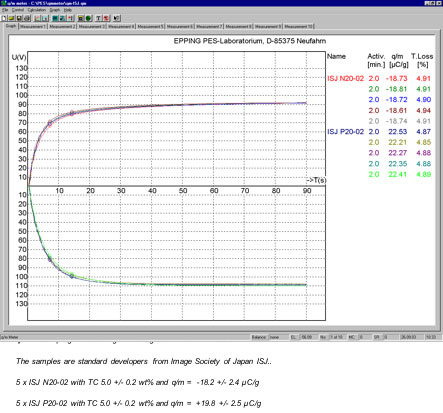 The samples are standard developers from image Society of Japan ISJ.
For higher charged particles, such as external additives like CCAs, SiO etc., a hard blow off cell is available. It is equipped with additional pulsed air jets to achieve higher efficiency when blowing the highly charged particles off of the carrier surface.
Especially for mono component toner, an optional mobile cage is used to sample charged particles from surfaces such as the developer drum, OPC or even the surface of paper. The mobile head is connected to the back panel of the device.
The device communicates via USB and is controlled by software, which makes setup and operation easy and convenient. The data can be exported in ASCII-format for use in other software applications.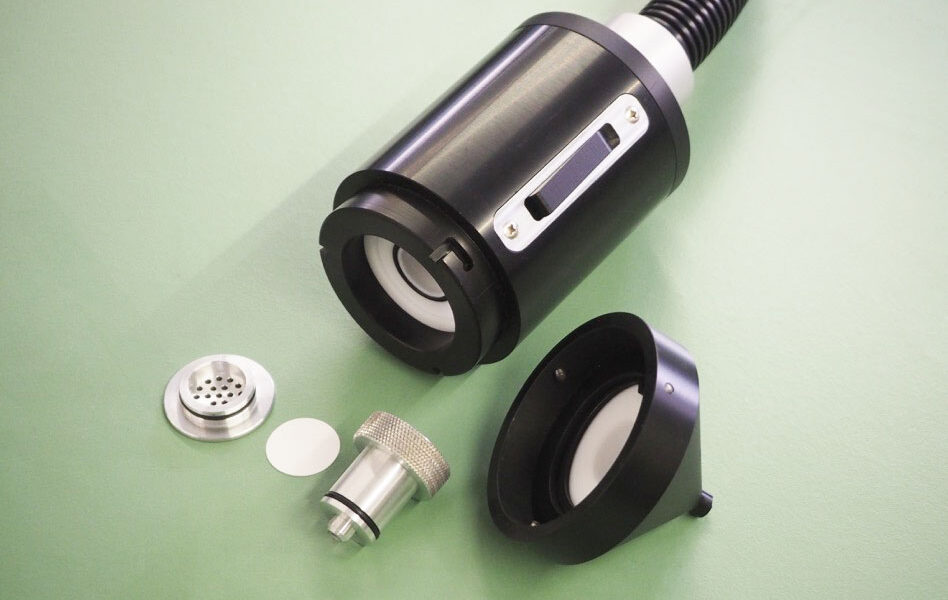 mobile cage to measure mono component toner

Description
Blow off/ Suck off type tribo charge measurement device
to measure the q/m ratio in µC/g
System Hardware
Bench top measurement device with digital and analog read-out via USB
Measurement cells

Soft blow off for developers
Hard blow off for pigments, resins and additives on carriers
Mobile cage to suck from surfaces, such as OPC, developer sleeve

5 wire mesh designed to fit the measurement cell – Reusable mesh for up to 200 measurements
Controlled airflow and monitored vacuum for most reproducible measurement conditions
Highly insulated cell
Software
Specifically designed to work with the q/m meter, compatible with Windows XP and 7
Software dialog controlled for easy operation, to avoid measurement mistakes
Graphing capability with up to 20 measurements on a single graph
Electrical Requirements
110 VAC to 230 VAC ± 10% @ 50/60 Hz
0.2 kW power consumption without vacuum cleaner
Dimensions
Instrument size: L 550 x H 330 x D 400 mm
Net weight approx. 25 kg